The result of plastic surgery is generally positive. But it is difficult to say that the results of all operations are the same. In this article, we will examine the celebrities who haven't got the outlook they look for. More precisely, we will consider celebrities who have problems due to the wrong clinic and doctor choices. When you see the following celebrities, you may get surprised seriously. If you're ready, let's start.
1. Micheal Jackson
Michael Jackson is one of the first celebrities that come to mind when the celebrities who have had plastic surgery is on the agenda. The famous name was born in 1958 and managed to become the pop king of the 20th century. The aesthetic operations had by Jackson wh has numerous successes in his career have never yielded the desired result.
It cannot be said that the famous name, who underwent many operations throughout his life and as a result made the color of the skin white, got what he wanted as a result. When he died, it was seen that he had different scars related to these surgeries. In particular, it was understood that the nasal bone was completely destroyed and therefore he wandered with glasses and a hat. Despite all the misfortunes, Michael Jackson, the king of pop, has managed to be the name that has marked the last 30 years.
2. Lil 'Kim
Kimberly Denise Jones, better known as Lil 'Kim, draws attention as one of the celebrities that cannot find what the outlook she wanted to have with plastic surgery. Born in 1975, Lil 'Kim gained a great reputation in the 1990s. Having had a number of aesthetic operations during this period, Lil Surprised those who saw her new image. Because it is obvious that she was much more beautiful before she had aesthetic operations. Lil 'Kim is one of the most important examples of incorrectly applied aesthetics.
You May Also Like: 9 Celebrities Who Have Most Plastic Surgery Operations
3. Donatella Versace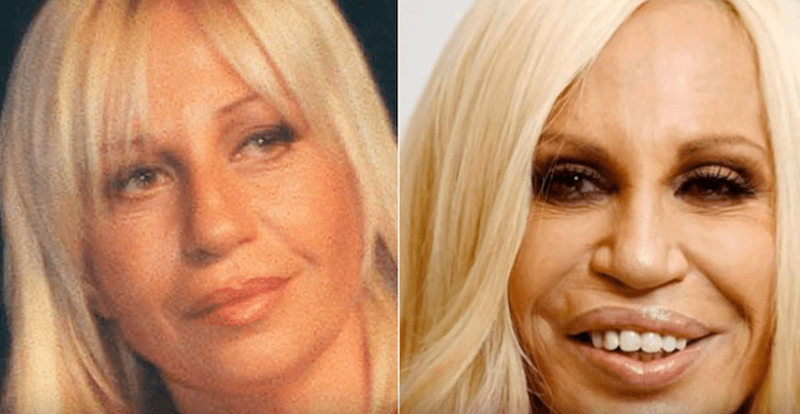 Donatella Versace, an Italian famous fashion designer, was born in 1955. She is one of the celebrities that seriously affect the fashion world. She has very important successes in this field. The name in question has undergone a number of aesthetic operations in this process. The result of the aforementioned operations is completely disappointing. First of all, she started to look older due to these operations. In addition, she has lost her natural beauty. The result is a complete disappointment.
4. Jackie Stallone
American astrologer Jackie Stallone is one of those who cannot find what he is looking for from aesthetics. The famous name, born in 1921, has left a serious mark on his period. The famous name, who is also a former dancer, underwent an operation at a time when plastic surgery wasn't as well-developped as today. The final result did not meet the expectations.
You May Also Like: 8 Celebrities Who Had Breast Reduction Surgery
5. Amanda Lepore
Amanda Lepore is one of the first celebrities that come to mind when it comes to disappointment in plastic surgery. The famous transgender singer wanted to change her appearance with her aesthetic operation. But the result is pretty bad. It is hard to say that she managed to hide this bad result despite her very intense make-up. The famous name, who has been mentioned extensively after the 1990s, is thought to be regretful for these operations in question.
6. Melanie Griffith
The famous American actress Melanie Griffith was born in 1957. The celebrity, who is 62 years old, has significant success in hercareer. She was married to Antonio Banderas between 1996 and 2015. Melanie Griffith, who has a unique beauty, could not get what she wanted from her aesthetic operation. It can be said that she used to be much more beautiful before the operation. However, due to the fact that the procedure cannot be reversed, she continues her life as she is.
You May Also Like: 10 Celebrities Who Never Had Plastic Surgery
7. Meg Ryan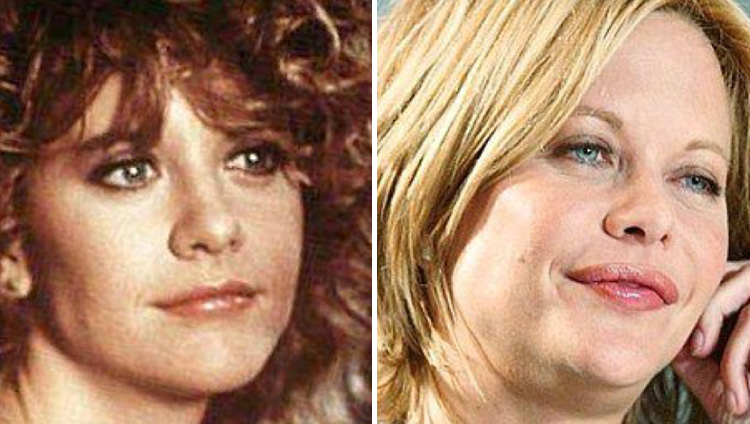 Margaret Mary Emily Hyra or Meg Ryan in short was born in 1961. The famous name has worked in many projects in cinema. Meg Ryan, who first appeared in the TV series in the 1980s, later moved to the world of cinema. Meg Ryan, who has a special beauty, has not lost this beauty completely with her aesthetics. But the number of those who say that her old image is much better is considerably higher.
It is possible to increase the number of samples above. It won't be correct to say that every plastic surgery will result positively. There are a number of points to consider at this point. It is very important that the doctor performing the operation is expert and experienced in this field. Choosing a doctor who has not achieved successful results in past operations or has not performed this type of operation before will increase the risk of negative results. Therefore, it should be remembered that specialist physicians should be selected.