Having big breasts is a situation that makes women look more attractive. For these and similar reasons, some women benefit from breast augmentation procedures. The number of women who have had breast augmentation surgery is considerable. While the fat transfer method is preferred in some of these surgeries, some of them make use of implant procedures. So, which method is more suitable for you for breast augmentation? We compared fat transfer and implant options for you.
Breast Augmentation with Fat Transfer
Breast augmentation with fat transfer, as the name suggests, is based on fat transfer. In this method, the area where the fat will be taken is determined first. Generally, fats in the hips, abdomen, and thighs are preferred. Fats are taken from here by the liposuction technique. Later, these are processed and pure fat is obtained. In the last stage, the pure fats obtained are injected into the desired areas with the help of a cannula to reshape the breasts.
This method is generally used in those who do not need excessive enlargement and lifting. It is a suitable method for women who have resistant fat to diet in their donor areas.

Advantages:
No artificial or unnatural substance is used during the procedure.

Provides a natural look and feeling.

There are no risks such as implant infection, surgery failure, fluctuation, and capsular contracture.

No incision is opened during the procedure. This eliminates the risk of any scarring.

It is a method that does not require much control and care.
Disadvantages:
The result does not have certain predictability.

Approximately half of the fat used is permanent.

Different permanency periods of fat transferred to both breasts may cause asymmetrical results.

Desired growth may not be achieved with a single procedure.

Injected fats can be affected by weight gain and loss.

Fat cells are also affected by aging and additional procedures may be needed in the future.
You May Also Like: FAQ about Breast Augmentation
Breast Augmentation with Implant

In this method, implants are used for breast augmentation. A surgical procedure is required to place implants. Therefore, the first step of the procedures here is anesthesia. An incision is formed in the chest area of the patient who is under anesthesia. These are opened according to previous planning.
After the incision is opened, the previously determined implants are placed in the breasts. Different techniques can be applied according to the desired breast size and the natural appearance of the breast. After this stage, the necessary controls are made and the incisions opened are closed.
There are different types of implants. You can decide the most suitable one for you together with your doctor.
The recovery period in breast augmentation with implant is generally 6-8 weeks. However, this period may sometimes be shorter and sometimes longer. It is recommended that patients rest at home for a while to return to their normal lives.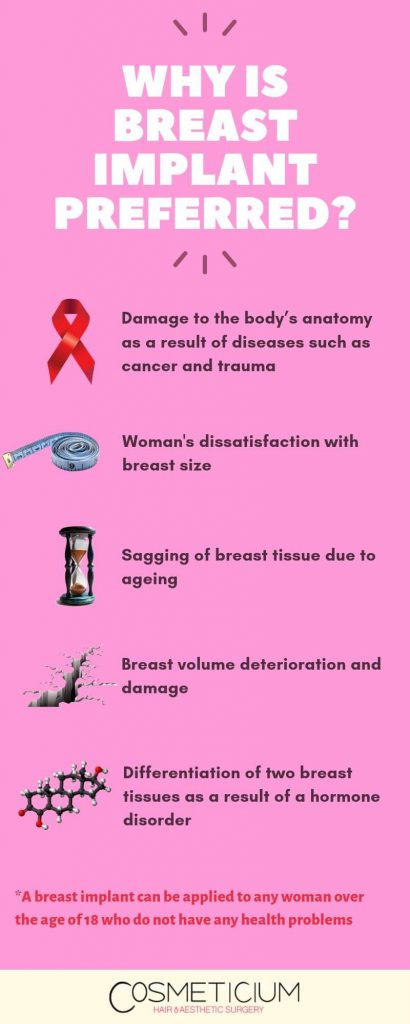 Advantages:
The materials used in breast augmentation with implants provide larger breasts.

The result is more predictable thanks to the non-living materials used.

The result is symmetrical.

It costs less.

It has the feature of providing a long-term solution.
Disadvantages:
There is the possibility of not providing a natural appearance and a natural feeling.

There is a risk of complications as it is performed by surgery.

It is almost inevitable that the incision scar is visible at the beginning. Over time, this scar may disappear.

Implants should be replaced every 10-15 years.

When mammography is necessary, it can make imaging difficult.

In some cases, the body does not accept implants.

There are some risks such as implant infection, capsular contracture, surgery failure, and fluctuation.
You May Also Like: 6 Reasons to Have Breast Augmentation in Istanbul
Can Both Methods Be Used in the Same Operation?
Fat transfer and implant can be applied together for breast augmentation. Thus, the desired size breasts and a natural appearance can be obtained. Besides, fat transfer is an effective method to eliminate asymmetric results in implant application. When the implants are removed, fat transfer can be performed to add volume to the breasts. In short, there is no obstacle to the simultaneous application of the said procedures depending on the situation. While your choice is important here, please bear in mind that the most appropriate advice will be given by your doctor.
Click Here For More Information About Breast Augmentation Procedure.