DHI hair transplantation method has recently become one of the most preferred methods in hair transplantation operations. This method is also known as the pen method or direct hair transplantation method. Although this method is accepted as new, it has become one of the most known applications because it is highly preferred. In this application, the best quality hair follicles are collected from the area expected to be a donor and these follicles are placed in the designated areas with the help of special pens. The pen-like medical device used in DHI hair transplantation application not only serves to open canals but also performs root placement at the same time. This allows the hair follicles to heal in less time. DHI application is performed under local anaesthesia. There are multiple reasons for people with hair problems to prefer this application.
Why should DHI hair transplantation be preferred? What are the features and advantages? The answers to all these questions can be found in our article.
1. More Frequent Hair Transplantation Is Possible
In hair transplantation operations, the frequency of the transplantation of hair is also very important. One of the most important advantages of the DHI method is that it allows the hair to be transplanted frequently. Hair can be planted at the desired frequency or infrequency. It is recommended that those who wish to have frequent transplantation prefer DHI hair transplantation in the first place.
2. DHI Is Preferred for Natural Hair
In hair transplantation applications, the shape of hair growth and appearance of the hair are extremely important. Therefore, DHI application is one of the most preferred applications for more natural looking hair. The direction of hair growth can be determined with this application. And this results in a more guaranteed result.
3. Almost No Scarring with DHI
One of the most engrossing stages of hair transplantation methods is the problem of leaving a scar. However, this problem has been minimized thanks to developing technologies and better-performed procedures. Thanks to DHI application, scarring rate is much lower. In this technique, cutting tools such as scalpels are not used. With this application completed in only one session, you can have bushier and more natural looking hair.
You May Also Like: Which Country Has the Most Experienced Doctors in DHI Hair Transplantation?
4. Hair Follicles Are Transplanted Directly
One of the well-known advantages of DHI application is the direct transplanting of hair follicles. The most important difference of this application from other hair transplantation applications is that the DHI method uses the transplantation pen. The thickness of this pen varies between 0.6 and 1 mm. The grafts picked with the transplantation pen, which is a surgical pen, are separated, cleaned and then transplanted directly to the desired area on the head without the need to open a channel. Both channel opening and transplanting steps take place simultaneously. The application requires more attention and precision compared to other methods. Thanks to this labour-demanding application, the results of hair transplantation are also guaranteed by 95%. The success rate in the DHI method comes from these new technologies and techniques.
5. Hair Follicles Are Not Much Damaged
With DHI, the most advantageous method amongst hair transplantation applications, hair follicles are not damaged much. This is because there is no need for opening a channel. Since it is directly transplanted, the direction of hair growth can be determined in advance and a natural look is obtained. In addition, because there is no requirement for channel opening, the absence of incision and stitching minimizes the risk of bleeding as much as possible.
6. Shorter Recovery Time
Another important advantage of DHI methods is the more rapid recovery process it offers. In other applications, the holding time of the hair is slightly longer, which leads to a prolongation of the healing process. However, in the DHI method, hair follicles hold tight more quickly, and this shortens the recovery process as much as possible. In addition, this method allows hair to grow faster. As hair follicles are transplanted directly without waiting too long, the cell division process can continue without being interrupted. It also causes less damage to the donor area from which the follicles are collected, and this area is allowed to heal more quickly.
You May Also Like: Criteria That Make a Hair Transplant Clinic the Best
7. Painless Procedure
One of the most important issues in hair transplantation is the pain, albeit mild, following the procedure. The DHI method does not have such a problem. Since the channel opening stage along with hair transplantation is performed using very thin point pens, there are no problems such as bleeding. Therefore, there is no feeling of pain. The patient does not feel any pain because local anaesthesia is applied during the procedure. Hair transplantation procedure is easily performed while people watch TV or read their books. Similarly, after the operation is completed, people can easily return to their daily lives and resume their working routine.
8. Existing Hair Does Not Get Damaged
One of the most hesitant subjects during hair transplantation is the risk of damage to existing hair on the scalp. There is almost no such risk in DHI application. For example; while there is a 1% risk of losing existing hair in the FUE method, this rate is around ‰ 4 (4 per thousand) in the DHI method.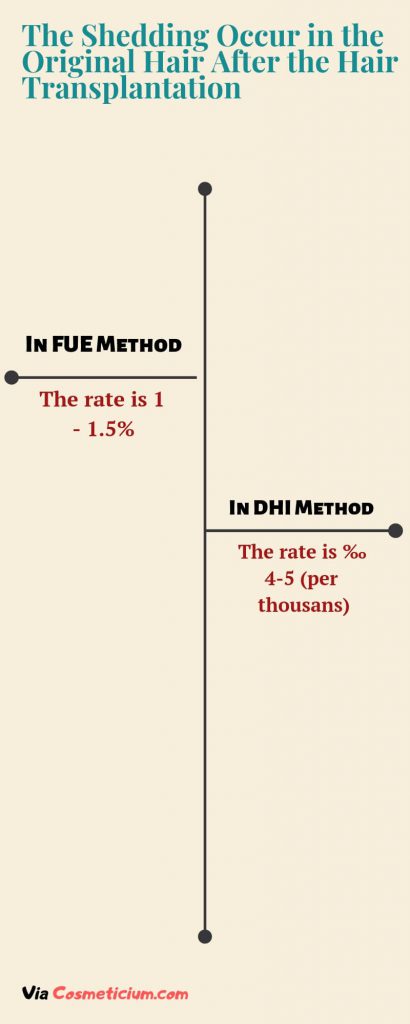 After a certain time after the operation, the desired hair starts to grow and there is no damage to the hair existing in the donor area. The transplanted area and other areas are able to recover in a short period of time, as it provides a chance for quick recovery.
You May Also Like: 11 Celebrities Who Have Clearly Had Hair Transplants
9. There Is No Shaving Obligation in DHI Method
In the DHI method, the area to be transplanted does not have to be shaved. People with ongoing hair problems can postpone hair transplantation to a later date. But you do not have to wait in DHI application. Thanks to this application, you can undergo hair transplantation procedure on the opened head areas even when the hair loss continues.
10. Lifetime Healthy Hair
For people who want healthy and lifelong permanent hair, the DHI method is also an extremely lasting application. This procedure, which is preferred by people for the opened hair areas, helps them to have the desired hair in a very short time and it provides a lifetime benefit. DHI application is one of the most ideal hair transplantation methods.
You Can Check Out This Page to Get More Information About DHI Hair Transplant in Turkey