Losing hair is a serious problem for many people. In recent years, the techniques developed on hair transplantation is a cure for people with such a problem. It is true that hair transplantation operations yield very successful results when conditions are met. But what are these necessary conditions?
First of all, you should know that you should not take any risks regarding your health. Although hair transplantation is a process that does not carry a huge risk, it is still a special procedure. You should be careful about the hair transplantation centre you choose. You should check to see if they provide the necessary requirements and certificates as well as specialists with sufficient knowledge and a dermatologist. Hair transplantation without checking these issues may lead to undesirable results. Is there any possibility that hair transplantation will fail even if these conditions are met? In what cases may the hair transplantation procedure not produce the desired result?
1. Poor Quality Hair Transplantation Centre
It is very important to know when a hair transplantation centre is established, how long its doctors have been there for, whether they have the necessary devices or not, the number of specialist doctors working there, and whether they have a dermatologist or not. Even if one of these details leaves a question mark in your mind, do not deliver yourself there. First, make a good investigation and choose the one with the best opportunities for you. Then ask for a preliminary interview with your doctor. Learn about your expectations, concerns and possible consequences during this interview. Briefly, you should be able to learn everything from your doctor. Then decide and undergo hair transplantation procedure. These are all very important and vital issues for your health. Don't make any concessions.
2. Doctor's Not Having Sufficient Experience
Everyone's physical characteristics are unique to self. There are many biological differences that vary from person to person. But if your doctor is experienced in hair transplantation, he should know about all these differences. He can give answers to your questions as you wish. Doctor can inform you in an adequate and satisfying way. He can answer you until you have no questions left. On the other hand, even if there is a low probability, the experience of your doctor plays a vital role in case of any problems that may occur during the operation. He can solve the problem immediately and eliminate a possible negative result.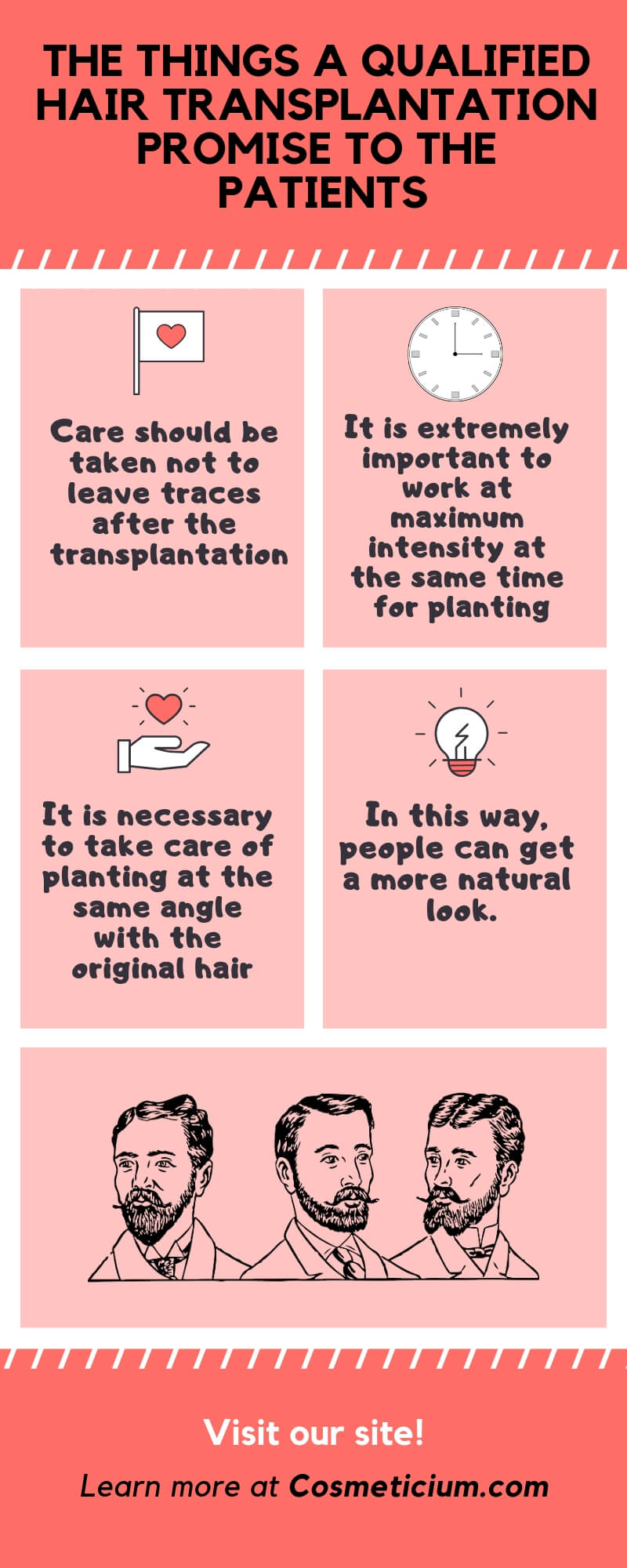 For a person to be experienced in any subject, he/she should be sufficiently trained in that subject and there should be no doubt about his/her expertise. If your doctor meets these requirements, you can confidently leave yourself in his/her safe hands. If you think that he/she does not have enough experience, do not decide immediately. Adjusting the angle of the hair, which is the most important part of hair transplantation, requires both expertise and experience. The success of the operation and your potential to have natural hair after the operation are completely dependent on this.
You May Also Like: Which Country Has the Most Experienced Doctors in DHI Hair Transplantation?
3. Patient Not Being Eligible for Operation
Anyone who has a hair loss problem cannot be considered an eligible candidate for the operation. There are certain requirements for hair transplantation. For example, the patient should definitely have a donor area where enough number of hair follicles can be found. Or if you have diabetes and want to have hair transplantation, these are all important barriers that require specific eligibility.
Apart from these, your medical problems, your blood values and other values, your skin and hair problems are also important for hair transplantation. They determine whether you are eligible for the operation or not. This issue is also related to the quality of the hair transplantation centre and the experience level of the doctor. Do not trust a place that does not make the necessary tests for you and does not ask for your specific information. Have your tests done at a centre where you are sure that all requirements are met and then agree to undergo hair transplantation operation.
4. Grafts Not Being Correctly Placed
The most delicate detail of hair transplantation operation is the correct placement of hair grafts. This subject requires experience. Because when placing collected hair grafts, the angle of your other grown hair should be considered. After this angle and the direction of hair growth are determined, hair planting should be done at the same angle and in the same direction. Any problem that may arise on this matter causes you trouble while your hair is growing. For example, the grass man look is such a problem. Your new hair may not look natural and this is one of the most feared results. That's why the way your doctor does is very important. For the operation to be considered successful and for the planted hair to look natural, grafts should be carefully placed at the right angle.
5. Inadequate Post-Operative Care
If you have chosen a reliable and high-quality hair transplantation centre and your doctor has the necessary qualifications, you will also receive adequate information and assistance on your post-operative care. For example, your doctor should tell you to sleep by putting your head up for about 3 days at a 15-degree angle. He/she should also provide detailed information on how to protect your hair follicles. If the new hair follicles are damaged, the operation has no meaning. You must, therefore, follow the instructions given word for word.
You should avoid the sauna, pool and heavy sports for a short period of time (2-4 weeks) and take good care of yourself. Although it is possible to return to social environments and work immediately after the hair transplantation procedure, it is very important that you rest a little without rushing into things. On the other hand, after at least 36 hours, your hair should be washed for the first time by the hair transplantation centre. Your doctor at the hair transplantation centre will also inform you about how to take care of your hair and what products to use. A high-quality hair transplantation centre does not disrupt any of these issues. The result is successful only if you do what is recommended word for word.
You May Also Like: 11 Celebrities Who Have Had Hair Transplants
6. Having Unrealistic Expectations
Once your hair starts to fall out, your forehead line may confuse you a little. Determination of the forehead line is very important for hair transplantation. Therefore, you should tell your doctor what you expect from the operation and how you would like it to be done, and you should consider the recommendations on whether this is possible or not. The best thing is to do is to decide with your doctor. A good doctor may warn you about this when trying to meet your expectations. In other words, he/she does not give incorrect information when giving too much hope. That's why you should follow your doctor's recommendation and only expect what is possible. And this completely depends on your discussions with the doctor.
You can also get realistic information about the image that will appear after a hair transplantation procedure in a high-quality hair transplantation centre. They can guide you through what you should and shouldn't expect from the operation and you can decide on the process together with them.
CONCLUSION
Hair transplantation operations can now provide much more successful results. You just have to pay attention to some of the choices you make, and you have to be more realistic in your expectations. The hair transplantation centre you choose and the doctors working there are also of great importance. They can respond to all your questions and expectations, and they can also influence the success of the operation.
Reaching a natural looking bushy and lively hair is no longer an empty dream. It can be quite realistic. For this, a qualified hair transplantation centre and doctors who have gained expertise and experience in the field are adequate. If you make an elaborate choice on this subject without jeopardizing your health and do enough research, you will also be satisfied with the result. Remember, if done in the right hands, hair transplantation is a medical procedure that can bring you back your real hair.
You Can Check Out This Page to Get More Information About DHI Hair Transplant in Turkey